Foods and Drinks to Try in Mexico
When we think of Mexico, undoubtedly, food comes to mind.
And it's easy to see why.
It's undeniable that when it comes to gastronomical adventure, this colossal country has equally a wide-ranging variety of dishes and renowned foods as its European counterparts such as Italy or France. Thanks to the sheer size of this country and the rich indigenous Mesoamerican cooking genius fused with Spanish cuisine, there's a plenteous expanse of Mexican food to offer to the curious gourmand.
Food lovers around the world will definitely take delight in of its rich cuisine. Let me share with you some of the typical dishes that you can find when you're in Mexico. Andale, try them!
Read also: How I Got my Mexican Visa
Some of them are exclusively available in the area where they were originated , so don't miss the chance to taste them once you're there or you'll never find them in another place.
The key is to identify the specialty of the place you're visiting.
1.Sopa de tomates
Healthy. Simple. Natural. Tomato soup is one of the nutritious food that you can easily prepare, a little acidic, then, add some queese or chilies to the side. Voila. You got your healthy soup.
2. Pozole
Pozole is a traditional Mexican stew made from hominy (dried maize kernels) with chicken or pork meat and can be seasoned and garnished with chile peppers, onion, garlic, radishes, avocado, salsa and limes.
3. Mexican Crab soup
Crabs with tomatoes, avocado,and chilies equal a one satifying, spicy, flavorful soup that you should never miss out. Love every type of crab soup but this Mexican version is also one of my favorites.
4. Gasparito
5. Pork soup with Tortilla
6. Mexican beans/ Frijoles con cecina y salsa verde
7.Churros
8. Nieves Malinalli
Here comes the sweet course. In some regions in Mexico, it can be very hot, and Malinaco is one of them. Hence, it's no surprise that this town is known for its heavenly ice creams to beat the heat. This famous sorbet comes in different flavors such as coco, mamey, mango and other local exotic fruits and even some foods like mole.
9.Paletas de Mango con chile
10. Mexican Breads
11.Tamales
Tamales is a traditional Mesoamerican dish made of corn-based starchy dough which is steamed in a corn husk. It can be filled with chicken or any type of meats, cheeses, fruits, vegetables, and chilies.It is usually eaten early morning with atole, a hot corn-based drink which they put chocolates at times. It is normally sold along the streets, so it's easy to find one.But take note, it should be early morning.
12.Nopales
Nopales is the edible part of a type of cactus called the pads cleaned of spines. It is a common ingredient in various Mexican dishes that can be eaten raw or cooked, as salads or stews or even served as a traditional medicine.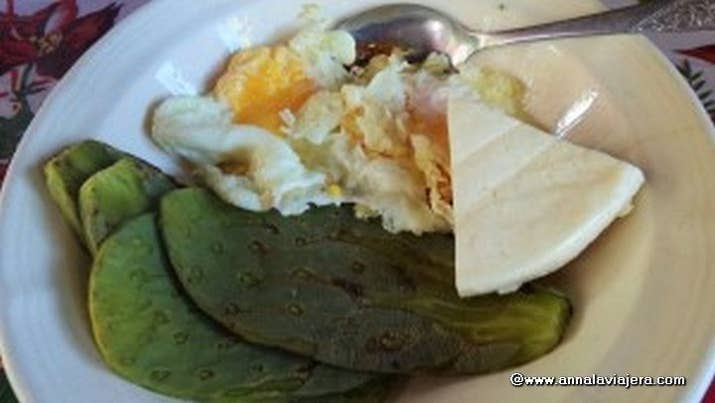 13. Boiled egg tortilla
14.Quesadilla
This is a morning food that is so easy to prepare. Just fill the tortilla with cheese and fold it in half and then cook it, then there you have it, your quesadilla breakfast. Of course over the years, this food has evolved , so you can see a lot of variations of it, it can be frita (fried) or with different fillings such as mushrooms, potatoes,squash blossoms, chorizo or other meat. But just remember it can not be a quesadilla without the cheese in between the tortilla.
15. Tacos al Pastor
Literally means in English as "Tacos in the style of the shepherd".This is being cut from the spit -grilled meat which resembles Turkish shawarma,only that the meat is pork, not lamb-based.It is said that this preparation style of tacos is adapted from the Lebanese immigrants to Central Mexico.The thing is they add some pineapple bits on the tacos which give it a sweet and syrupy flavor. As a Filipino, I have a great liking for sweet-tasting foods, so you already know why I love this version of tacos.Since tacos are street-foods, you can buy them from 6-10MXN pesos only.
16. Enchilada
The name itself suggests that this is a meal with chile. Enchilada is the past participle of enchilar which means "to feel the burning sensation after the spiciness of the food hit your mouth ". It is a rolled maize tortilla stuffed with a variety of fillings including meat, cheese, beans, potatoes, vegetable or combinations. Then, you cover it with green tomatoes and green chili pepper sauces. Yes, the tomatoes and peppers should be green,not red.
17.Tacos de Res
18. Quesadilla Frita
19. Torta
Torta a style Sandwich a la Mexicana. It is chiefly garnishes with avocado,jalapeno, tomato and onion. The sandwich is normally named according to its main filling. Here are some examples:
Torta de jamón, ham-filled torta (this is the most common)
Torta de huevo, scrambled eggs-filled torta
Torta de milanesa, milanesa meat-filled torta
Torta hawaiana, pineapple-filled torta
The one I tried was called Torta Toluquena which is made from chorizo de Toluca, is the state capital of State of Mexico, the 5th largest growing urban area in Mexico. We ate it at the La Vaquita Negra del Portal, a pretty popular Torta restaurant in Toluca swarmed non -stop by its pleased customers.
20. Torta Ahogada
Torta Ahogada is a classic dish from Guadalajara, the capital and largest city of the Mexican state of Jalisco. Ahogada means drowned because the torta is normally submerged in a tomato or chili-based sauce.You can never find it in any other city in Mexico,so never let pass this epicurian hap once in Guadalajara.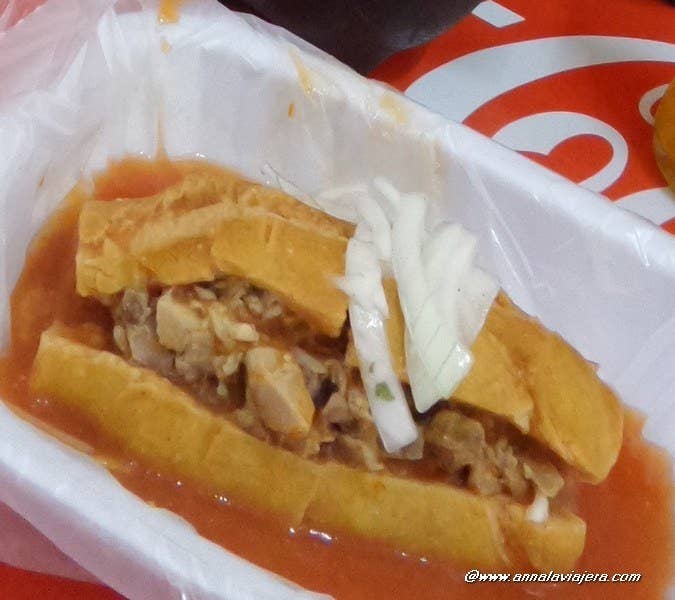 21. Pambazo
Pambazo is a bread dipped in a red guajillo pepper sauce and filled with papas (potatoes ) con chorizo .The bread used is white which is made of flour, lard, eggs, and is tougher and drier than bolillo.
22.Obispo
Obispo is a one of a kind chorizo that you can only chance upon in Tenancingo, a large municipality in State of Mexico. Due to the fact that this food is exclusively produced and made available in Tenancingo, don't you know that hundreds of tourists flock to Tenancingo just to get a taste of tacos de obispo? This embutido, which is made of pork meat, has 2 types, the regular and special one. The latter is elaborated with raisins, almonds, pineapples among other ingredients.
23. Milanesa
24. Mexican Steak
25. Barbacoa
Other Antojitos/Street Foods
26. Gordita
It literally means "chubby" in spanish but this is what they call as well to a small cake made of masa which is stuffed principally with abah. You can also add cheese and meats. It is similar to Colombian's arepa.
27. Sope
It is a traditional dish originating in the central and southern parts of Mexico. It is roughly the size of a fist topped with refried black beans, crumbled cheese, lettuce, onions, red or green sauce. Sometimes it is topped with meat.
28. Chicarron
29. Mole
It has been called as the national dish of Mexico. Believe me, I've seen how meticulous its cooking is ,mixing several chilies,with a little amount of La Abuelita-brand chocolate and mulatto peppers, providing its dark color,mole indeed ,is an ancient dish sent by the gods.The sauce is also served with chicken, pork, or other meats.
30. Chili Relleno
Relleno means filling. So, basically , it is a chile with fillings. It is commonly filled with minced meat,melted cheese,variably with raisins and nuts coated in an egg batter. It is served in tomato sauce. This Mexican cuisine originates in the city of Puebla.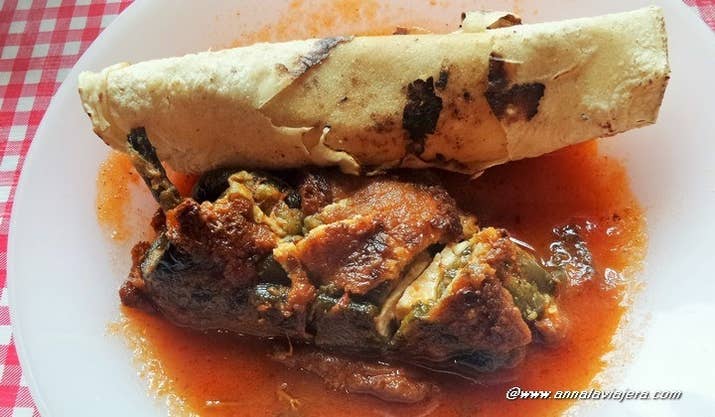 31. Mojarra Frita
32. Papas Guisadas
33. Mexican Buffet
I thought I could find some authentic burritos, fajitas or chimichangas once in Mexico but I was misguided. These favorite dishes served in most Mexican-themed restaurants outside Mexico are nonexistent in this country. I was surprised that even nachos are out of sight. It was on the last day I found out that this favorite "botana" or appetizer is only available at cinemas. Órale,pues.
Food aside, Mexico has some interesting drinks that will expand your taste bud. Some of them is familiar to the ears as they are internationally known but some may sound exotic for an adventurous drinker like you.
34. Mexican Beers
Have you heard of the finest beer in the world that is Corona? Of course, you had. Or a beer which they fused with their basic must, chilies ! Yes , you heard it right, Mexican don't only infuse their adored chilies with food but also with their drinks, so Michelada came into being. Tecate, anyone? And several other more. Mexico has lot of beers that you can choose from and even compare among them which you think is your dearest.
35. Horchata
Squelch your thirst by drinking 1 of the 3 favorite Mexican refreshments, Horchata. I felt full after I drank a glass of it. Its creamy, a little sweet and can really snuff out your thirst.It caught my attention while browsing the menu as the image reminded me of my town's own Zamboanga White. I was taken aback that the two has the same bang and aftertaste. Although both appear white in color, the latter is made of milk, lychees, sugar and a bit of pineapple which explains its overall appearance while Horchata is made of rice and cinnamon, and sometimes with vanilla. This is the Mexican version.Across Latin countries, USA to Spain, this refreshing drink varies in flavor and taste.
36. Tejuino
I was lucky to get the chance to taste Tejuino while roaming around Guadalajara one hot sunny afternoon. I never have tried a cold beverage that tastes like it; cold (blame the shave of ice on it) , sugary (due to the unrefined brown sugar they called as piloncillo that they mix it with) with a tinge of pungency (its the pinch of salt and lime juice). Really, it tasted out of this world and eccentric. In case you wonder its tawny hue, it is a result of the corn dough where it is made from. They say it is only consumed in Jalisco.
37. Jamaica
Like Horchata, Jamaica is a favorite Mexican agua fresca. Believe me, in Mexico when they refer to agua, which we know as water in English, they do not mean the pure transparent mineral water that we need to drink at least 8 glasses per day. Mexicans consider it impolite if they serve their guest with just mineral water, at least an agua to show courteousness. And the most common and popular is the Jamaica. It is made from the dark magenta-colored sepals of roselle (dried hibiscus calyces).
38. Tequila
Where else to enjoy the authentic, favorite drink of yours that is a 100% agave tequila but in the place where it was born? In Mexico, particularly in Jalisco, you can find the 3 biggest tequila manufacturers. Not only that. There is also a town in Guadalajara that is called Tequila. And you would not question the basis of its name. Apparently, all the well-known tequila brands you might have encountered in your life are found here. Sauza, Jose Cuervo, name it. Tequila town has all of them. Just remember, it is not tequila if it was not distilled or concocted in Mexico.