PARIS on a budget
Population- 2.2 M (Paris)
Area- 105.4K sq.km
Currency- EUR
Daily budget (extreme)- 30 EUR
(moderate)- 50 EUR
Paris is indeed the most stylish, and glamorous city that I find in Europe. Everything is beautiful in Paris. Every corner and in every sidewalk, you won't mind getting lost at all. Almost all tourist attractions are reachable on foot.
Sncf bus- this is the largest French railway network that will take you to all corners of France and also to other destinations like Spain and Germany.
Eurolines- I took this line when I traveled from Belgium to Paris via (GoEuro) and from Toulousse to Andorra.
Metro– 1.90 EUR per metro ride.
This is the most affordable hostel that you can find in Paris. More or less a 300-meter walk to a metro. If you're traveling on a budget and does not mind sharing with other girls' bedroom and toilet, this is quite a comfortable and clean place to stay. This is a family run business so the hostel is actually a 2-story house with several shared beds and bathrooms. The owner is a Korean. You can order some Korean dishes and French breakfast for 5 EUR and above.
Breakfast is until 11am.
Café-2 EUR
Croissant- 3 EUR
Macaroons- 2.90 EUR That French macarons though is a joy for any sweet tooth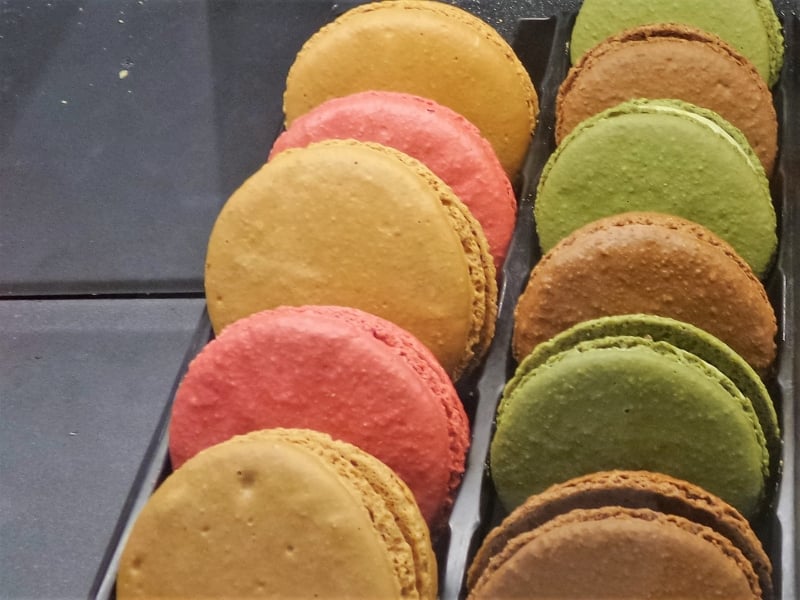 Sandwich- 3 EUR
Soup– 4 EUR
Plat and a glass of wine– 15 EUR
Crepe– 3 EUR
Here are some useful French phrases that were useful during my short trip in France and hope for you too:
Si- Oui
No- Non,
Please- sil vous plait
Goodbye- Au revoir
Good morning/ Good night- Bonjour/bon sua
What time is it?- Quelle heure est-il?
How much- Combien?
Do you speak English?- Parlez-vous anglais?
The menu- La carte
The bus/plane- Le bus//l'avion
If you want to find how I did my walking tour for whole day around main attractions in Paris, you may click this link below:
If you like this post, don't forget to share it on or connect with me via the following social media accounts:
Anna La Viajera on Facebook – AnnaLaViajera
Instagram – anna_laviajera
Twitter – @Anneposequit