Barcelona: Things to do, Foods to try, Suggested Itineraries
Capital of Catalonia in the eastern region of Spain, Barcelona embraces a unique identity with its own language, Catalan. This modern capital attracts millions of tourists year round with tis cool and hip thriving port.
Some Barcelona Statistics:
Population- 45 M
Area- 504K sq.km
Currency- EUR
Daily budget (extreme)- 20 EUR
(moderate)- 40-55 EUR
By Air
Fly to Barcelona – EUR (RyanAir/ EasyJet – budget airlines)
I booked via JetRadar.
By land
Barcelona to Madrid- 17 EUR (GoEUR/Alsa)
Andorra to Barcelona – 28 EUR (Eurolines)
Metro- 1 EUR (RENFE, from 1 metro to another)
Discounted 4g Wifi for Europe
Accommodations are the most expensive in Spain during summer. But you can still find some budget rooms under 25 EUR. Most of them are conveniently located in Las Ramblas and El raval.
HOSTELS
I stayed at this hostel. It was the cheapest at the time of booking located in La Rambla. No complimentary breakfast though.
Hostel St. Christophers Barcelona
One of the cheapest hostels with complimentary breakfast that's well located in La Rambla.
BUDGET HOTELS
One of the most affordable and comfortable hotels to find in the touristic area of Barri Gotic.
Reasonably priced hotel that will give you access to a good sea / port view.
LUXURY HOTEL
A 4.5 – star hotel with the best overall guest reviews in Barcelona.
Pom tomaquet
A true Catalan dish which is basically bread spread with tomatoes on top. Can also be eaten as sandwich with some veggies.
Jamon
Find some Spain's famous cured ham and other sausages at La Boqueria, Barcelona's famous market.
Paella
Ordering paella in Barcelona is generally cheaper than in Madrid. If you want to taste this world-known Spanish dish, try it here.
Discounted Seafood Feast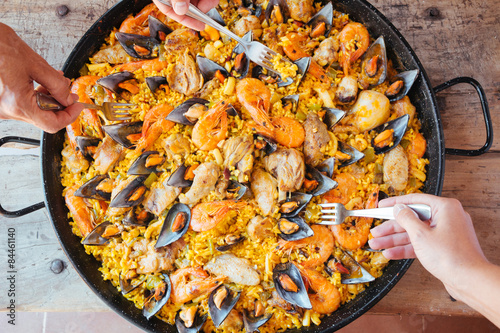 Most demanded Barcelona souvenir is Messi's jersey ranging from 20 to 50 EUR. Messi hat/cap can be bought at 15 EUR. Just haggle.
Choose a wide range of candles of all sizes, shapes, fragrances and textures in La Boqueria.
Discounted La Boqueria Market Tour/Cooking class
Get some wall decor that features Virgin Mary, Last Supper, Jesus Christ, angels among others.
One thing that makes Barcelona unique is that in this region they speak not Spanish but Catalan. It sounds a bit of French for me. Without time to learn Catalan, I just memorized some few Catalan phrases which I thought essential. I conversed to locals in Spanish though and good thing, they didn't bother . Almost similar with Spanish saying a Si or No as well but take note of these differences:
Thank you is Gracies.
To say goodbye- Adeu
Excuse me- Perdoni ( not perdon as in Spanish)
Good- Bon/bona
Expensive- Car (remove the o/a in caro/cara)
Cheap- Barat (same here not barato/barata. last vowel is eliminated)
Do you Speak English – Parles angles? (sound a bit French for me)
Numbers 1, 2 , 3 – un, dos, tres
4, 5, 6- quatre, cinc, sis (similar to French's)
I don't understand – No ho entenc ( No oo antenk)
How much? – Quant val?
What time is it? – Quina hora es?
Day 1 Arrival
I had a day-trip in Andorra, a tiny country nestled in the Pyrenees with its capital Andorra La vella that has hig concentration of shops and some few good sights. From Andorra, I rode a bus to Barcelona which took 3 hours (via Eurolines).
Day 2 City tour
The next day, I was ready for my Barcelona trip. Barcelona is the capital of Catalonia , and is one of the most alluring ciries in Europe. Here , they speak Catalan, and Messi is an icon who plays for FC Barcelona. And they have their own flag of yellow and red stripes with white star in the middle of a blue rectangle.
Do your DIY walking tour or hop on city bus for that city sightseeing.
Discounted Barcelona City Sightseeing
or a hop-on hop off bus with audio guide:
Discounted Barcelona Bus Pass with Audio Guide
Experience one of the grand festivals in Spain, the Trobada dels Gegants de Sant Jaume de Barcelona.
My hostel is conveniently located between Las Rambas and the Plaça Reial . Just across it is this royal plaza which has large number of restaurants and famous nightsclubs in Barri Gotic. It is here where I took my breakfast of pom tomaquet with coffee for 7 EUR.
Curiously, this plaza bears the Philippine flag in the middle, I wondered if this is where the Philippine embassy in Barcelona is located. You can slo find here some antiques and accessories in its stalls placed in the middle. It is also such a good place to chill and relax with the calming sound of its known fountain.
As you move around, you can find the Catalonian government building.
Continue your walk around the Barri Gotic, or Gothic town. In its center is the Placa de Sant Jaume, just behind it lies Barcelonas cathedral, te Church of Santa Maria del Mar, the apogee of Catalan Gothic art.
Then, you'll pass along La Boqueria, the citys main food market.A little further on, there stands metro Liceu,across it is Barcelon'as celcebrated opera house, Liceu.
You are now on the most popular avenues in Europe, Las Ramblas. It is also famous for street performers who are dressed as fanastical creatures.
Walk straight, cross the street , then you"ll see this famous landmark, known as the Monumento a Colón or 'Columbus Monument', a a tribute to the famous explorer, Christopher Columbus and his trip to Barcelona after his first voyage. Its just few meters away from the Port Vell, Barcelona's historic port.
Then, I had to take the metro to arrive at Parc Guell. Nearest station from the port is the Metro Drassanes, then I got down at Lesseps station. I walked around 20 minutes following the signs ging to Parc guell, one of the major works of famous architect, Antoni Gaudi in Barcelona. This public park system is declared as a world heritage site in 1984.
Discounted Parc Guell Guided Walking Tour
From here, I took the nearast metro , then get off at Sagrada Familia station to get a glimpse of another Gaudi's fantastic creation, The Temple Expiatori de la Sagrada Familia. Though incomplete , it is without a doubt , Gaudi's most famous architecture.
From Sagrada familia station, I headed to Arc de Triomf, the nearest station to Estacion Nord bus station to move on to my next city.
Day 3 Museums and Football Stadium Tour
Done with the must visit and most essential tourist spots to visit in Barcelona, if you have one more day in this hip city, why not make some museums tour especially if you're into arts and football.
Day 4 Monserrat
Still have more time in Barcelona? You can either just relax at the beach and do some shopping or do it in your 5th day , instead embark on a day-trip to the world-famous Montserrat Monastery with Liquor Tasting.
What do you think of this adventure in Barcelona? Please feel free to comment.
If you like this post, don't forget to share it on or connect with me via the following social media accounts:
Anna La Viajera on Facebook – AnnaLaViajera
Instagram – anna_laviajera
Twitter – @Anneposequit